Best Hands Free Can Opener
Hands free electric can openers are great, they are battery operated making it portable, easy to use and just require the push of a button. This makes them absolutely perfect for elderly people or those who suffer from arthritis.
However, there is a big difference between the quality in the different models.
We picked 5 of the top rated models and reviewed them below to choose the best one.
You'll be surprised how cheap the best one is.
[wptb id=502625]
The Best Battery Operated Can Opener
There is more to the automatic hands free can opener than meets the eye. There's power consumption, magnets, safety, speed, stability and if it leaves a smooth edge. Luckily, I have included all these in our electric can openers review.
Let's get started…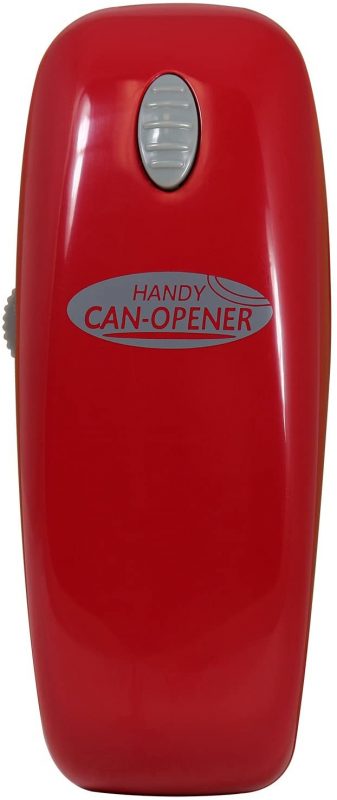 The Handy Can is the best electric can opener for value and our best pick of all the electric can openers.
It's automatic, hands free and easy to use. You simply place the handy can on the tin, align it up, and click the one touch button.
This is the cheapest option out of all the electric can openers, but it's our favourite.
So why is it our favourite?
Well as for the speed, it took an average of 20 seconds to open a can, which is actually the fastest in comparison to the other battery powered can openers. Considering it's cheap price, this was quite amazing.
It managed all 4 sizes of can without any issues, the largest of which was 4 inches.
However, the auto stop function did fail on our first attempt,
The only real downside we could find with this can opener, was the magnet, it seemed to not pick up the lid on some of the cans, so it was a hit and miss. This does seem to be a common issue with these products.
Regardless, it's perfect for cutting lids off and is a great addition to your kitchen.
Pros
Cuts the can open in 20 seconds
Opened all size cans with no issues
Quite Smooth
Good blade
Best value for money
Cons
Toucan – The Best Design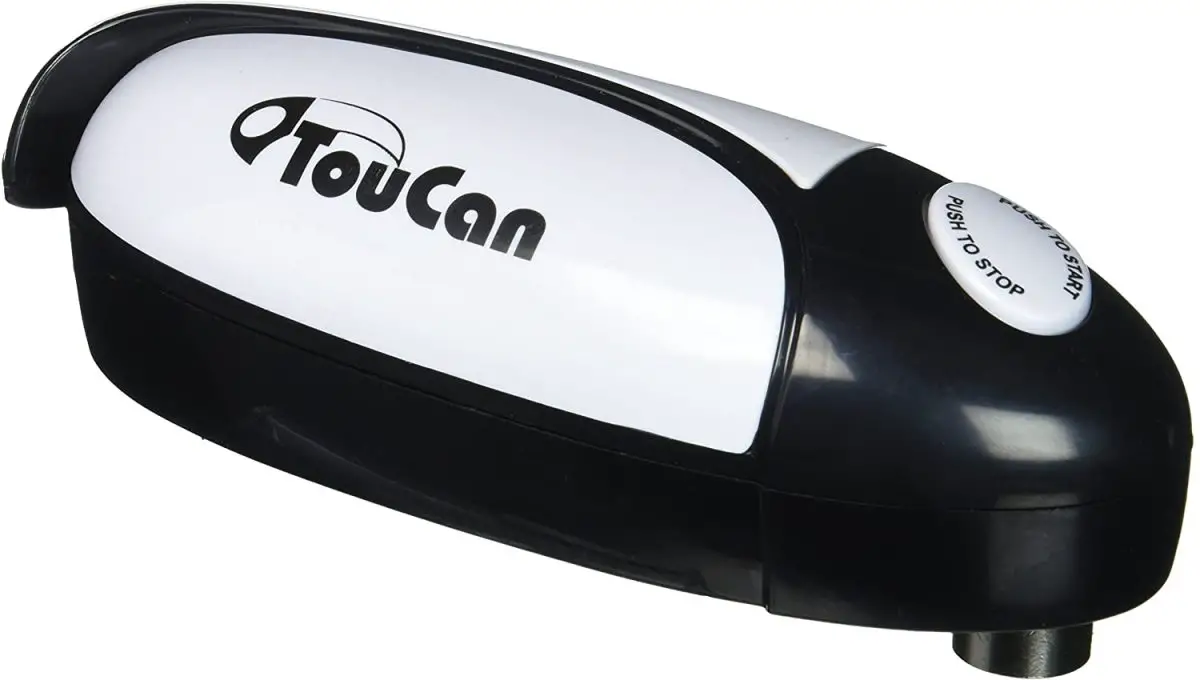 The Toucan is our next pick.
Again it's automatic, hands free and battery operated and requires 4x AA batteries that are not included.
This one is cheap, but it's definitely has it's value.
It is one touch and leaves a smooth edge.
It takes roughly 30 seconds to complete, which is a little bit slower than the handy can, but not a considerable difference.
It performed well and managed all 4 size cans without issues, although it was a little louder and had a clicking noise while opening.
The Toucan does not have an auto stop function, which means you will have to monitor it and turn it off using the off buttons once it has done a full rotation, some people will not mind this, but we do.
Again, the magnet is not as strong as we would like and did fail to lift some lids, but it is a common issue amongst these types of can openers, so we cannot fault the product designers.
Although customers have reported this leaving jagged edges on the can, we actually had an opposite experience, it left the tin lid quite smooth, although considering safety, we definitely advice being careful when touching the tin lid as we would with any can opening product.
Overall, this is quite the value purchase, it's relatively fast, smooth, and safe to use.
Pros
Cuts the can open in 30 seconds
Opened all 4 size cans
Smooth edges left on lids after cutting
Good value for money
Good looking design
Cons
No autostop
Magnet is somewhat weak
Tornado F4 – The Best For Smoothness
The Tornado F4 is not as good as the other openers.
It's automatic, hands free and battery operated and requires 3x AA batteries. It's also a touch button and cuts cans from the top.
It prices up a little more expensive than the previous ones.
It seems to be slower and weaker, it took around 50 seconds to get a 4 inch can open.
It does have an autostop feature which was decent.
The magnet (again) seems to be quite weak and sometimes does not manage to lift the tin lid.
So why is this more expensive than the previous ones? Well, we are not sure, the only difference we could really find was the smoothness it had while opening the can and the noise, it was relatively quiet.
That being said, I personally would not recommend this based on my preference, but realistically it depends what your more concerned about, speed or noise.
Pros
Smooth whilst opening
Good Autostop
Quiet
Cons
Cuts the can open in 50 seconds
Magnet is somewhat weak
Instecho – Our Least Favourite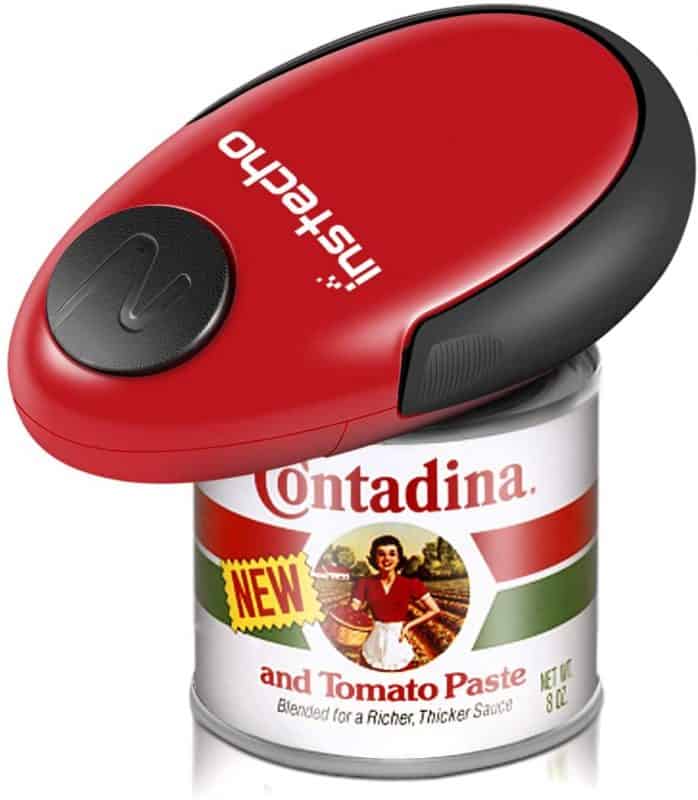 The Instecho is my least favourite of the openers.
It is hands free battery operated.
Although the design is nice, the performance was definitely not up to standard in comparison to the others. This is disappointing considering the price tag.
First of all, it shimmers, quite badly. This does not leave a smooth experience, I also noticed that cans filled with juice, potentially leak due to the shimmering movements of the can opener.
The speed was around average at 30 seconds per can, and the magnet (again…) is weak. It also had problems with it's autostop. It did not leave sharp edges though.
So overall, this is definitely my least favourite.
Pros
Cuts the can open in 30 seconds
Good design
Cons
Somewhat weak magnet
Autostop was not brilliant
Not smooth
Kitchen Mama – The Best For Durability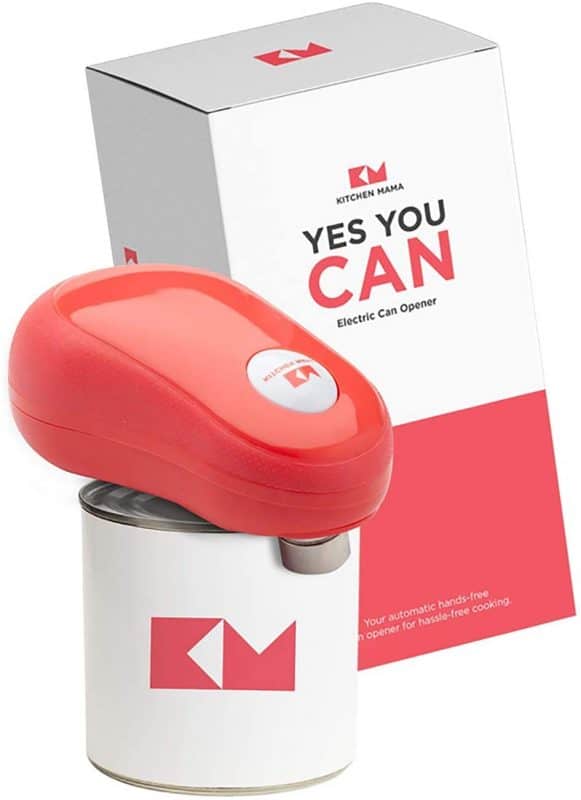 Lastly, the Kitchen Mama. This is the most expensive out of all the electric can openers.
It is hands free battery operated.
Overall this performed quite well, it was relatively quick compared to the other electric can openers with an average of 25 seconds to complete. It sounds as if it has a powerful motor which is great for durability and power consumption. It also managed every size can.
However, it did fail to Automatically stop on the first attempt, this is not too much of a concern but for the price tag I expected it to work correctly. Especially since some of the other openers did.
It also was quite smooth in terms of the opening process. So I have to say this is my second favourite out of the electric openers for the elderly or arthritis sufferers, my favourite being the handy can, which is very surprising as the handy can is the cheapest and this is the most expensive, that's something you rarely find with electric products.
Pros
Cuts the can open in 25 seconds
Powerful motor for durability
Opened every size can
Smooth edge
Smooth opening process
Cons
Somewhat weak magnet
Autostop intermittently failed
The Best Electric Can Openers – The Winner
The clear winner of all the can openers electric in my opinion is the Handy Can model. It's perfect.
Even though it's the cheapest automatic can opener that I reviewed, it performed the best with it's cutting blade, it had the quickest time and it's stable.
It's the perfect automatic gift for the elderly or those who suffer with arthritis. I have purchased a few of these for my relatives.