Circulon vs Calphalon: The Cookware Showdown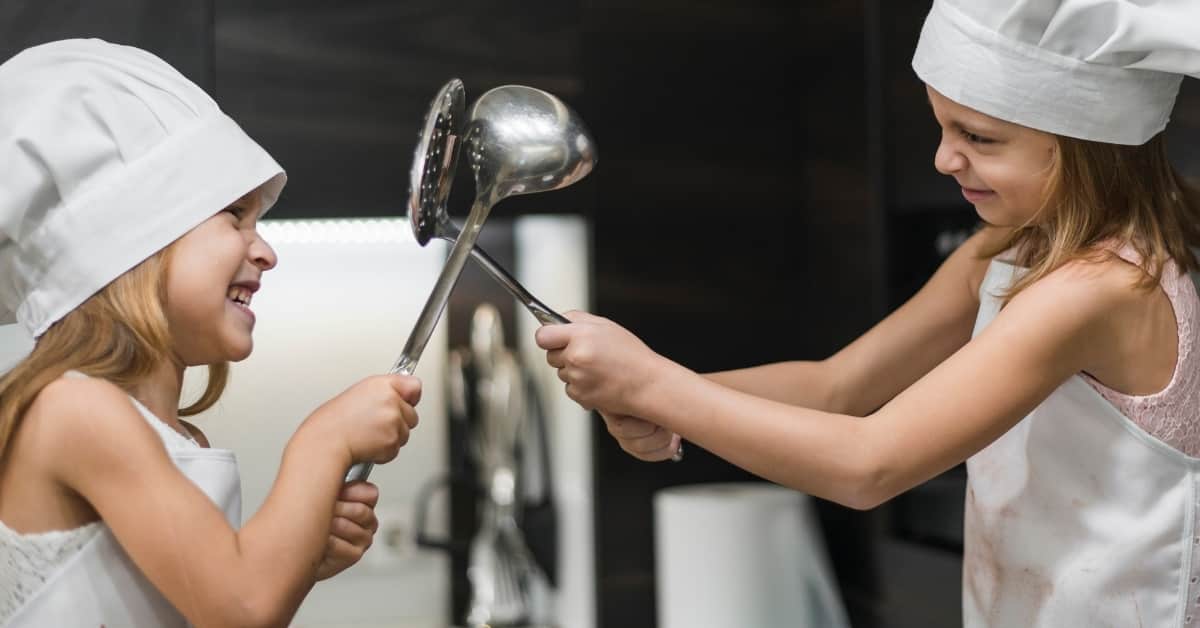 Hard anodized cookware is generally a good choice for a regular home cooks or chefs. It's durable, performs well, and won't break the bank.
At the moment, three cookware brands are specializing in this style of cookware, that's Calphalon, Circulon, and Analon. and they all have a rather good reputation amongst the consumers. However Calphalon tend to reign supreme in most cases, and we even wrote an article about the best calphalon cookware. So how does Circulon compare? and what about Analon?
In this article, I'll be covering the differences between the three cookware brands to help you find the right brand.
Why Is Hard Anodized Aluminum Used?
The term had anodized refers to the processing method of aluminum. Once it goes through the treatment, the aluminum cookware doesn't react with acidic food and becomes resistant to corrosion. Besides that, the manufacturer can do whatever they want to the cookware.
In essence, it's just an upgraded version of aluminum which provides better quality food whilst cooking and increases the durability of the cookware.
Circulon vs Calphalon vs Analon
Our three brands have a slight difference in the way they designed their cookware, but the main points are more or less the same.
Cooking Surface
Hard anodized aluminum cookware almost always features a non-stick cooking surface. A lot of time it's Teflon or another PFOA-free equivalent, but it's too rare to see a ceramic coat as well these days.
Our featured brands this time all have PFOA-free coating, with some also including texture and ridges that are supposed to prevent food from sticking.
Price
We are somewhere in the lower middle to the middle of the price range here. They are not quite the budget buys, but they will not put you in the red either.
If you're looking to set up a new kitchen from scratch, you could do it for $150 to $300, and that's no matter if you're purchasing a set or individual pieces.
Heat Tolerance
Hard anodized aluminum has a melting point of 1,221, so as long as you don't include the non-stick coating or silicone handles, you can cook your food in the heart of a volcano.
All joking aside, all these guys should be able to deal with high heat and be oven safe up to 400.
Design and Construction
Expect most of these pans or pots you pick up to have an induction converter disc on the bottom. Hard anodized aluminum is not compatible with induction cooktops on its own, so it will always have something added to the mix. Most of the time it will be a big shiny disc on the bottom of the item or, as it is the case of some Calphalon models, it will have another metal sandwiched in the sheep a pan was made from.
Expect a lot of black and some gold from these brands. These are mostly design preferences and have very little impact on the performance itself. All pieces have that general and recognizable look, with Calphalon making their stuff just that bit more attractive.
Performance
Hard anodized cookware heats fast and evenly. And you should expect at the very least 5 years or regular daily use before you start getting headaches from the non-stick coating or hardware.
That being said, all of these manufacturers have a decent track record for now.
Durability
None of these guys are made to survive a commercial kitchen. But regular abuse at home? It should be a piece of cake.
The pan or the pot themselves are not very likely to warp and get damaged. All issues will come from the hardware and accessories
Cleaning and Maintenance
A bit of a mixed bag here. In theory, these types of pans should be completely dishwasher-safe, but it doesn't always end up that way in practice.
Calphalon pieces tend to be easier to care for, while you will have to check every piece in both Circulon and Anolon lines.
Cooktop Compatibility
As long as they have that induction converter disc or if they have something else sandwiched inside those layers of metal, these pots and pans will work on any stove.
They are particularly recommended for a gas stove since they handle direct heat better than some other materials.
Value for Money
For an average home cook, hard anodized aluminum is worth the money. As mentioned, the pans can handle the heat and are far less likely to corrode or rust, meaning that they can outlive quite a few competitors. The only materials that perform better are cast iron and carbon steel, but they require regular TLC.
All three brands offer lifetime warranties on all of their cookware. You may need to take them up on the offer somewhere down the line because of the non-stick coatings. That being said, as long as you don't misuse these pans terribly, they should last you a while.
The Brand Showdown
So, we understand what we're looking for in hard anodized cookware and where these brands roughly fit.
Don't get confused that they are interchangeable just because their names sound like they are alien triplets from a Star Trek episode. Each brand has its strength and weaknesses.
Which cookware brand has the best cookware pieces or sets? That depends on what you're looking for.
Calphalon
Calphalon cookware is our top-ticket option with over 100 individual pieces and cookware sets on offer. The company also sells kitchen appliances, cutlery, and other kitchen tools.
Pros:
Attractive design – At first glance, these pots and pans don't look too different from any other you have seen over the years. But give it a second and you will notice a change in the angle of the curve or the position of the handle. All pieces are simply better designed and just look gorgeous.
Innovative ideas – Calphalon has a space-saving collection of pots and pans that promise to save up to 30% extra space in your kitchen. The pieces stack on top of each other and a small latch at the base of the handle keeps them all from sliding around. Very smart design considering that the kitchen real estate is at a premium in apartments. Also, all of the pieces hold up to the same standards as their cousins from other lines.
The induction sandwich – You'll find more than one hard anodized line and most of them don't feature the converter disc. This is because their metal sheet production technique makes the pas work on induction hobs with no additions.
The full range – You'll find pretty much any piece you can think of – from the classic skillet to a wok to a roasting pan.
Con:
Price – Though you can still get all the basics for under $200, it's not too difficult to spend double or triple that with this brand.
Circulon
The Circulon cookware brand has a lot more modest range that can still cover all your basics. A great option for someone who is just setting up or who is on a budget.
Pros:
Affordable price – In short, you can get a 10-piece set for about $200 or pick up two frying pans for under $50. Some pieces are more expensive, but if you're looking to equip your kitchen in one, it's a pretty good deal.
More than black – Don't expect neon pink or the leopard print, but that antique gold and silver are a breath of fresh air.
Do the fondue – A fondue set. Enough said. If you are done with novelty sets that you need to baby, here's an alternative that you can take from the stove to the table without blinking an eye.
Heavy-duty joints – If you can see them even on the tiny phone screen, that means that they are good. These handle joints are of pro-kitchen grade and are far likely to outlast the handles themselves.
Con:
Lack of options – You have pretty much the same shapes and elements repeating over and over. Even if you don't care about the looks, if you find yourself needing something different, you're out of luck.
Anolon
A happy medium?
Pros:
Choices – With about a third fewer Anolon products than Calphalon, but still you'll find any vessel for any cooking job. Plus, it's not a sea of black as well.
The helper handles – A lot of skillets come with this handy helper handle. Rather useful even if you don't have a disability or a health issue.
The matchiness – The brand rocks the same look across the board, so if you want to pick up a casserole or a dutch oven that matches your hard anodized stockpot or skillet, no problem.
The grooves – The non-stick coating is supported with a set of fine grooves and textures at the bottom of the pan. Yes, that means that you can fry fish in it and not worry that half of it will not be stuck to the pan.
Lifetime Warranty – Analon offers lifetime warranty on all their products, everyone loves it because it screams durability.
Con:
The price tag – This is also a pricier option, even though their most expensive set doesn't go past $500.
Is There A Winner?
In the end, the crown goes to no cookware brand in particular. All three brands are evenly matched, with Circulon having a tiny advantage due to slightly lower prices. Calphalon's offerings are a bit "prettier", but that beauty comes with a price tag.
And, if you have a bad case of OCD or this is something you simply care a lot about, Analon has the same look for its cookware all across the board. So, if you need things to match perfectly, that may be a good pick.