Did you know garlic has many health benefits? Once you cut garlic, it goes through a chemical change which turns it into an antibiotic, anti fungal which is said to help with bad cholesterol.
Many people ask what is a clove of garlic? Once they find out, they start looking for a garlic keeper to keep their cloves of garlic fresh.
Regardless of why you eat garlic, whether it's taste or health, freshness is key to a great taste, and having the best garlic keeper is the key to fresh garlic!
That's why we strongly recommend you buy a garlic keeper, they are designed to keep garlic fresh for several days.
[wptb id=502939]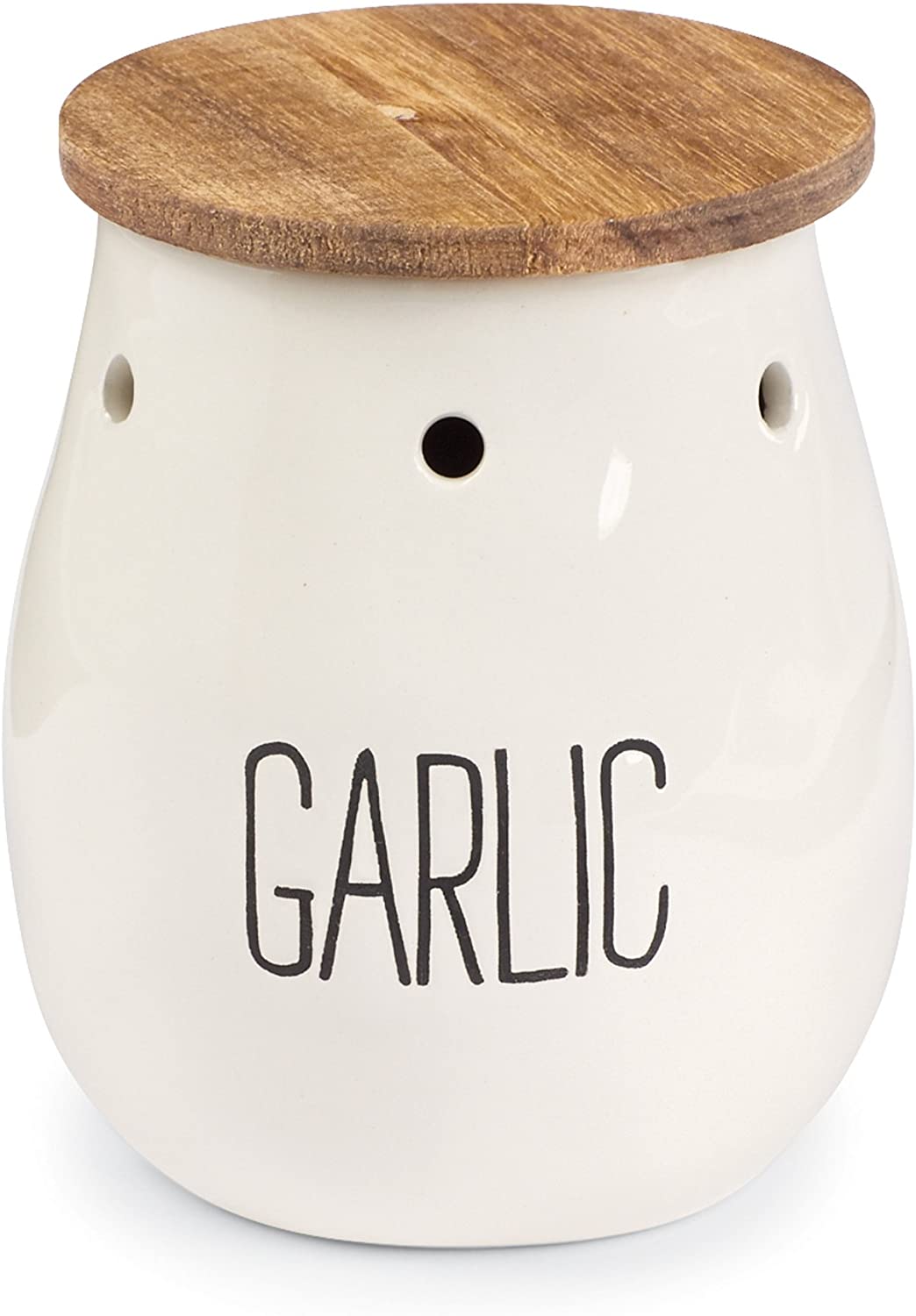 Need a small garlic keeper? That's where the Mud Pie shines. Designed for it's small kitchens, this garlic keeper is not only practical, but it's aesthetically pleasing.
With a 4.5″ x 3.5″ diameter, this garlic keeper is quite small, it can hold 2 large garlic bulbs, absolute quality for those who love cute practical additions to their kitchen.
It has pierced holes at the top of the garlic keeper which allow air flow through, but keeps the sunlight and temperature to a minimum, ensuring the freshest garlic. With a wooden lid, this will go great with those who have a rustic kitchen look.
Norpro 250 (Best for Large Kitchens)
Need a big garlic keeper? The Norpro 250 is a spacious garlic keeper designed for those who do bigger shops, or cook fresh on a more regular basis.
With a 5″ x 6″ x 5″ size, the Norpro could possibly be the best garlic keeper, it holds around 4-5 large garlic bulbs (depending on how big they are) which should get you through each shop without running out of garlic.
It has 4 holes near the bottom centre, allowing for ventilation but keeping temperature and sunlight to a minimum, this is the optimum environment for storing garlic.
It's aesthetics are nice, it's designed with a retro teapot look, which will definitely be more appealing to the elderly generation (A perfect gift) but even if you are young, it still a versatile look, meaning it will fit well into many kitchen themes.
Overall I really like the Norpro 250, it's large, practical, and has a retro design.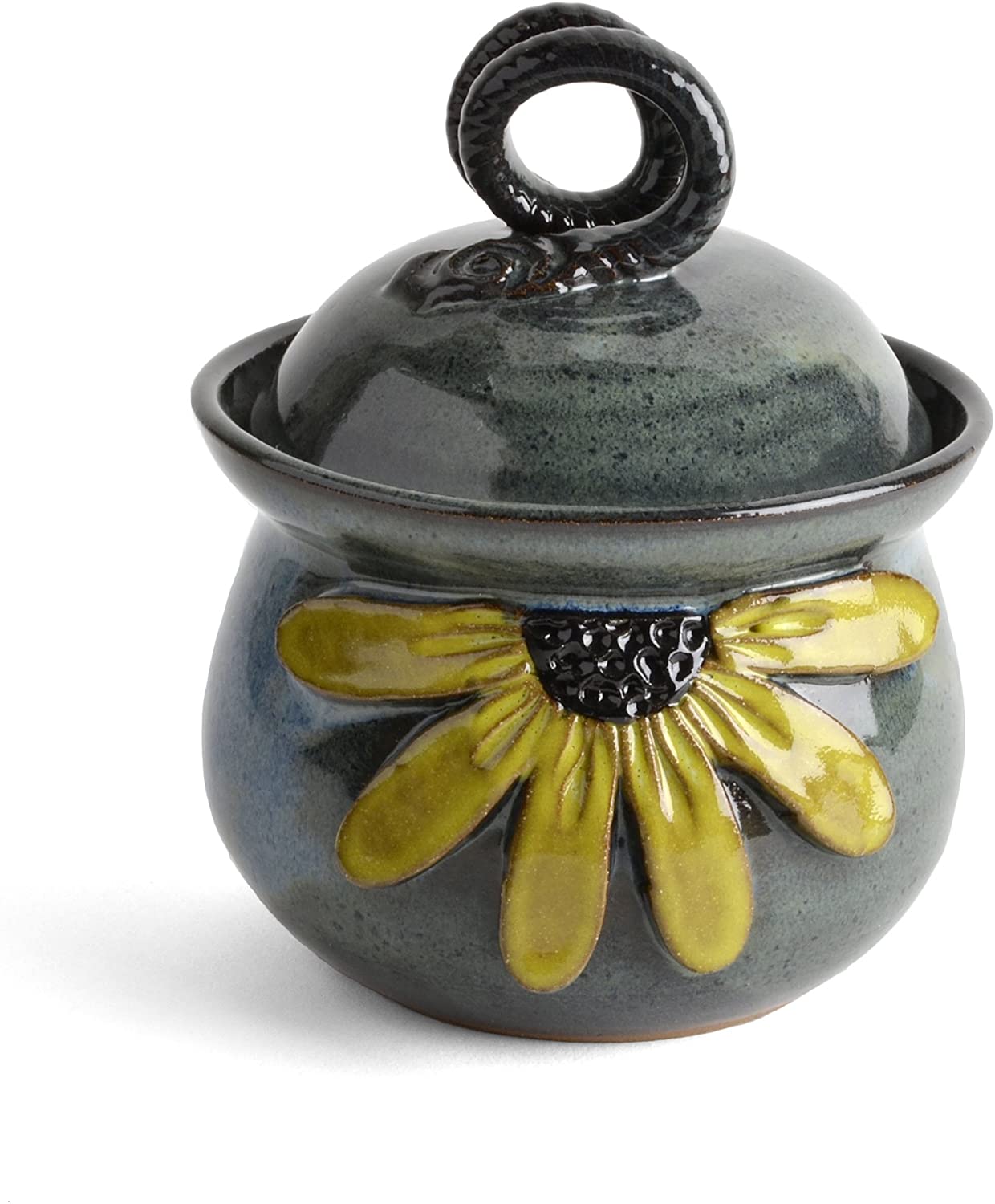 This hand crafted garlic keeper from Pennsylvania is an elegant addition to any kitchen, perfect for those who are more interested in a unique style.
It's has a 4.5″ diameter while 5″ in height, making it suitable for most households, it can hold roughly around 4 large garlic bulbs which is perfect for the average family.
And since ventilation is a must with garlic keepers, this one has 4 holes hand crafted into it on the back, giving garlic the ultimate freshness.
While the entire garlic keeper is handcrafted, the lid is a quite unique, because it has been hand sculpted.
Overall, if you are a really authentic individual, looking for a unique style, then I have to say this is probably the best garlic keeper for you. The only way I would recommend you to avoid it is if you were a very regular user of garlic and needed to store more than 4 large garlic bulbs.
The "I Clove You" Garlic keeper is honestly the perfect gift for a partner or family member who loves cooking. It features the writing "I clove you" which is (for those who don't see it) a cute joke .
It is 4″ in height with a 3.5″ diameter, which mean it will roughly hold 2 large garlic cloves, so it's not too big but it doesn't need to be unless you use a lot of garlic during the week.
As with all garlic keepers it has pierced holes on the bottom to provide ventilation keeping your garlic fresh.
Now this one also features a garlic grating spoon (Depicted in the image) which is convenient for when you need to grate garlic.
Overall I do like this garlic keeper as a gift, the only criticism is that the style of the grating spoon and the garlic keeper is totally different, the garlic keeper is designed for a more modern kitchen, whilst the grating spoon looks more suitable for a traditional kitchen. However as a gift i'm sure anyone would love it. And who knows, it could match their cutlery!
The Le Creuset Garlic Keeper is an expensive addition, although it is justified. This Garlic Keeper is designed for the more professional cooks who take cooking seriously. It has a non porous enamel which is enables the garlic keeper to resist odours, staining, chipping and cracking. This will last a long time.
It's 5″ in height and 4″ in diameter which holds up to 3 large garlic bulbs, this is the average size of garlic keepers.
It has pierced holes in the bottom allowing the optimum environment for storing garlic, and can withstand temperatures from -18 degrees Celsius to 250 degrees Celsius. It's safe for the oven, grill, microwave, dishwasher and freezer. The only avoidance you need to take is not allowing direct heat to touch it, such as fire.
The design is elegant, with a gradient of cream to white, it creates a very luxurious look that can fit with both modern and traditional kitchens.
Overall, this is expensive, but for the serious cooks, I would say this is the best garlic keeper out there. It has all the possible features that you need to use garlic in a versatile way, such as roasting. Not only that, but it comes with a 10 year guarantee, so you know it's long lasting.
Garlic Keeper Buying Guide
Correct Storage – As you probably are aware, garlic keepers are designed to be the correct storage needed for fresh garlic. Fresh garlic needs ventilation, and to avoid sunlight. Therefor garlic keepers have been designed to be enclosed, but have pierced holes to allow airflow through. When looking for a garlic keeper, make sure it has at least 4 pierced holes for adequate airflow. Too many could be counter intuitive!
Material – The majority of garlic keepers are made from ceramic. This is the ideal material, however you should look for non-porous ceramic with holes. This will not only keep your garlic cool, away from sunlight and well ventilated. But it will also resist odours, staining, chipping and cracking. Essentially making a long lasting quality garlic keeper.
Size – You don't want a garlic keeper that cannot store all of your garlic do you? Where will you put the rest of the garlic you buy? That is why you need to consider size. As a general rule of thumb, you want to be able to store around 3 large cloves of garlic at once. Large families or more regular cooks may need 4 or 5 to be stored. That is where you need to opt for a bigger size garlic keeper. In the product reviews above I talk about the size of each garlic keeper and how much garlic they can store so you don't need to do the research.
Lid – The lid is an important feature of garlic keepers, it may seem obvious, but it's often overlook. It keeps the garlic keeper sealed from sunlight. Sunlight is the enemy of garlic and without a good seal your garlic will not stay as fresh as possible. The garlic keepers I have chosen above all have a well sealed lid good enough to block the sunlight out.
Design – The design can be important depending on perspective. You need to ask yourself, are you going for a theme in your kitchen? Some people may be aiming for a modern or traditional themed kitchen whilst some might not care about the theme. You need to know your theme before looking for a garlic keeper, otherwise you may buy one you just hate the look of when it arrives.
Verdict
Overall the Le Creuset garlic keeper is the best in my opinion. It may be expensive, but it's feature rich. The versatility created by the features make it a perfect all rounder and fills the needs of professional chefs. The design fits into both traditional and modern kitchens. Holding an average of 4-5 bulbs makes it a perfect garlic keeper.